2009
- Before ClickShake, Jay and Steve created the game
Paradox Embrace
with Caulder Bradford for Newgrounds' Power of Three collaboration event. After that Jay and Steve created
Buy Buy Buy!
for Comedy Central and decided to team up full time.
2010
- ClickShakeGames.com was launched on January 25th, 2010. That March, Jay and Steve went to the Flash Gaming Summit in San Francisco and set out a plan to release new Reemus games, Several Journeys Chapter 4 and Ballads of Reemus. That year we released
The Visitor: Massacre at Camp Happy
and finished
Several Journeys of Reemus Chapter 4
, which was released to Ballads pre-orderers, plus client games
Ugly Americans: Citizen Ugly
and
15 Ways to Sink your Small Business
.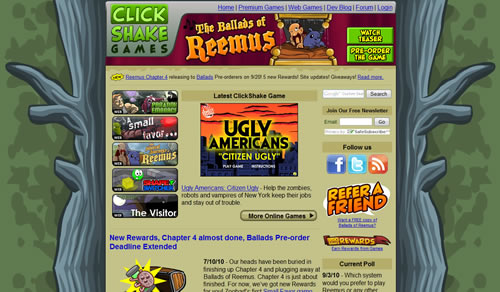 2011
- We released
Zee and the Alien Machine
,
Stake Your Claim
and
The Visitor Returns
, plus deployed some of our games to the BlackBerry Playbook. Major development effort goes into Ballads of Reemus and Jay starts our YouTube vlog.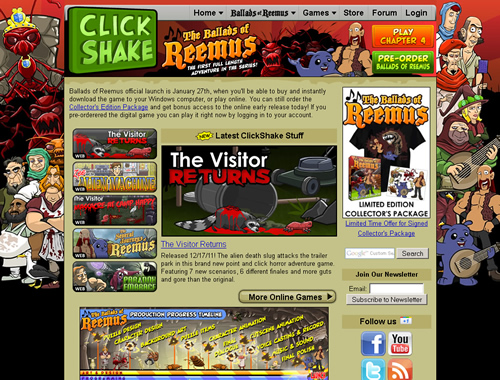 2012
-
Ballads of Reemus: When the Bed Bites
goes live in January along with Several Journeys of Reemus 4 to the general public, and
Wentworth
releases in June. Our Facebook page passes the 2,000 mark. We developed a number of games whose release dates were deferred until 2013, including adventure game Uncle Vince: Mission In-Vince-Able for comedian and voice actor Scary Pete, and a mostly finished top-down space adventure game. Finally, the latter half of the year was spent developing our first iPhone game called Escape the Titanic for FreshGames.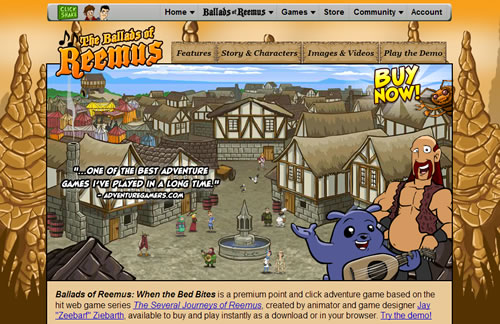 2013
- Steve and Jay met up in person for the second time at the Newgrounds' Pico Day 2013 event in Philadelphia in April. We got a tour of the NG office and met our role model and long-time supporter, the founder of Newgrounds Tom Fulp, as well as the programmer for Journeys of Reemus 3 Aaron Worrall and lots of other cool people.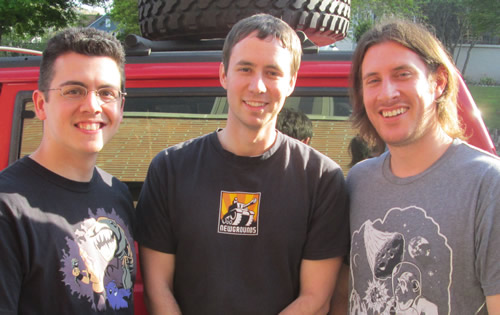 Major development on Escape the Titanic wrapped up by May and released for iPhone, iPad and iPod in July! Meanwhile, our
Kickstarter for A Small Favor
had reached a very encouraging $13,500, but still short of our $30k goal. As a result we took some new contract work to bring our funds back up, including a digital board game, another new game for Flash/iOS/Android, and some 3rd party digital game servicing projects. Jay presented Ballads of Reemus at Casual Connect's Indie Showcase in San Francisco and came home with the Indie Prize for Best Story for Ballads! In September, Jay launched the
Ballads of Reemus 2 kickstarter campaign
. October saw the release of
Uncle Vince's Mission In-VINCE-able!
Click here for our complete list of released games.