Play as an alien assassin in a world where cash is outlawed and trading trinkets and favors is the only way to live.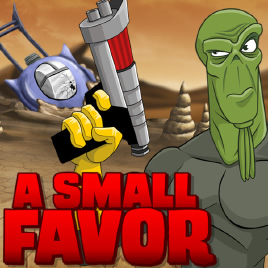 A Small Favor is getting a 2013 reboot as a downloadable 2D side-scrolling adventure for PC and Mac in an all-new game. We're expanding the storyline, improving the artwork and adding free character movement to explore the world, solve quests and find secrets.

We've turned to our fans for help in making this game with a
Kickstarter campaign
. We really need your support to make this happen! Visit the link for the pitch video and to see prototype and concept art from the game.
You can also vote for it on our
Steam Greenlight page
:
Before the downloadable Kickstarter version, the game started as a series of free online point-and-click adventure Flash games. A lot of the story foundation was set with these games so check them out to get a taste of things to come! Note that the downloadable game will be a whole new side-scrolling game; much longer and with more character control than the free games.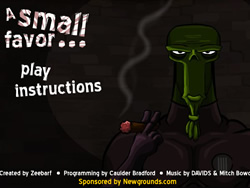 A Small Favor (2009 online game)
- A nameless assassin takes on a mission to eliminate a prominent Senator in a distant alien galaxy, in a world where cash is out and bartering is back.
Another Small Favor (2009 online game)
- With his security clearance severly compromised, the assassin heads deep into the blindzone to find a new identity.