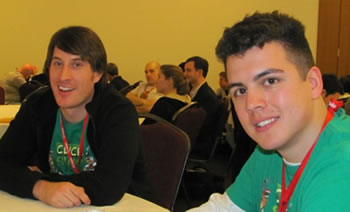 Jay and Steve at Flash Gaming Summit 2010
ClickShake Games is a game development studio located near Columbus, Ohio and creator of the Indie Prize award-winning Ballads of Reemus: When the Bed Bites. Formed in early 2010 by programmer
Steve Castro
and animator
Jay "Zeebarf" Ziebarth
, each had seperately designed and developed games published as early as 2000. The pair developed
Paradox Embrace
with Caulder Bradford for Newgrounds.com 2009 Power of Three event and have since developed and released more than 10 new games, including:
More on the history of our company and website.
|
Complete list of released games
ClickShake develops original 2D games for mobile devices, browsers and computers, and also provides custom game development services to clients. We provide a unique art style and years of game design and action/puzzle development experience.
If you are interested in having us develop custom games for your organization, or licensing our existing games, please visit our
professional services
page or
contact us
.
"ClickShake Games", "ClickShake", "CSG" and the corresponding logo(s) are trademarks of ClickShake Games LLC, incorporated in Ohio, and represent the company's products and services internationally. When refering to our company or offerings, use the ™ symbol , and use the mark "ClickShake" and not "Click Shake" or "clickshake". "Zeebarf" and corresponding logo(s) are trademarks of Jay Ziebarth. "EntropicOrder Original Games" and corresponding logo(s) are trademarks of Steve Castro.
For all inquiries, please follow the
contact us
link found at the bottom of every page.