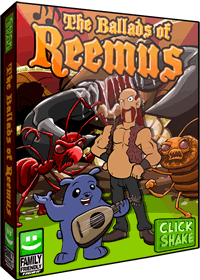 Jay and Steve are happy to announce that after 2 years of hard work, our first commercial release Ballads of Reemus is now available! You can now
try the demo
,
buy the full game
and instantly download it to your computer. You can also play online to utilize the server save feature, allowing you to resume progress from any computer!
Check out the JIG review.
Also available now is the free web game
Several Journeys of Reemus Chapter 4
. It's a fun little game, but once you've played it and are yearning for a more epic Reemus experience, grab the Ballads full version for more puzzles, 100% voice acted dialogue, fully animated cutscenes like watching a Saturday morning cartoon, sidequests and more, all for about the price of a dinner! Enjoy.