Looking to license or distribute existing games for your website?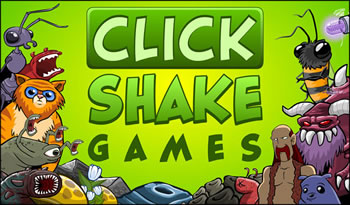 Want to build awareness of your brand through interactive media? Interested in viral marketing? ClickShake Games™ can design and develop a custom game for your company or website and reach hundreds of thousands of people with high quality content. We have developed custom games for organizations like Comedy Central, Sports Illustrated for Kids, The Canadian Center for Emergency Preparedness (CCEP), and MTV Networks, as well as numerous online game portal sites.
ClickShake uses market strategies that utilize the appeal and replayability of interactive games to deliver thousands of click-throughs to your site in a way that pay-per-click static advertising simply can't do. We specialize in 2D games for mobile devices like iPhone, web, computer and social media. Our team can work with your existing idea for a game, or we can design a game from scratch to suit your target audience.
We can discuss your project's needs on the phone, over Skype or in-person near our office in Columbus, Ohio. Please contact us for a quote.