9/20/10
-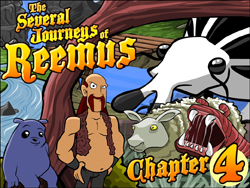 After months of hard work, Reemus 4 early release is now live to Ballads pre-orderers, including 5 new achievement Rewards you can earn. If you haven't pre-ordered Ballads yet, it's not too late.
You can still pre-order and get your chance to play Reemus 4 today.
Today we are giving away a handful of free Ballads of Reemus pre-orders! We already sent out some Reemus trivia to subscribers of our newsletter and will be randomly picking 3 winners from everyone who answers correctly today. For this next one, we're giving away a pre-order to the first person who responds to this blog post with the answer to this trivia: Name two processed foods/drinks that grow naturally in the forests of Fredricus. The winner will be announced later today in this post's comments. Good luck!

We've also updated our site with a new logo and header layout. Plus we made a new Equip Reward feature to show off your new achievements. Just go into your account settings to pick which item you want to equip. Soon we'll make the equip process even more intuitive but it's a fun little feature in the meantime.

Finally, thank you so much to everyone that has pre-ordered Ballads and supported our indie team. It's really encouraging to know so many fans believe in our dream and gives us even more drive to make our games that much better.