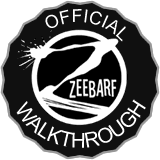 Are you stuck playing the sequel to the hit Zeebarf game in the Small Favor series? No problem, we've got you covered with the game's official Zeebarf walkthrough!
Video Walkthrough by Tasselfoot
FIND THE INFORMANT
Pick up package - get scanner
Head to forest city
Go to Pub
Use scanner on patrons until informant is revealed
ELIMINATE PIG HUNTER
Go to forest
Activate energy shield
Kill pig hunter in gun battle
FIND THE BLUE TEDDY GUARD
Defeat the Pig Hunter
Travel to the edge of the forest
RECOVER SKY KEY
Find Furry Green Shawl
Trade for Slingshot
Collect Pebbles for Ammo
Shoot mayor with slingshot
Recover sky key
Give Sky key to Blue Teddy Guard
FIND FURRY GREEN SHAWL
Talk to Snail farmer - get BAGEL application
Become BAGEL member
Bring BAGEL membership to farmer
Get Snail
Give Snail to Tailor
BECOME BAGEL MEMBER
Give application to Gardener
Find Purple Rose
FIND PURPLE ROSE
Collect Purple rose from forest
Give Rose to Gardener
FIND MEDICINAL BLUE FLOWER
Become BAGEL member
Pick Medicinal Blue Flower from garden
Give Flower to Doctor
MAKE TEDDY BEAR UNIFORM
Call in THE DOCTOR favor
Visit doctor and get healed
Get Teddy Bear from gift shop
Call in THE TAILOR favor
Give teddy bear to tailor
Put on Teddy Bear Helmet
FIX CATAPULT
Trade for Slingshot
Collect pebbles for ammo
Shoot animals with slingshot
Trade animals to the scavenger
Trade for Pole and Bungee Cord
Trade for seat in Trade-o-matic
Use pole, bungee cord and seat on Catapult frame
SAVE THE KITTY CAPTAIN
Trade for Glue Paper
Put glue paper on web
Shoot spider with laser gun
Save Kitty!
ELIMINATE COMMANDER POPPET
Go to Poppet's tent
Call in KITTY CAPTAIN favor
Call in THE OLD COLLECTOR favor
Shoot Jack-in-the-box guard
Shoot Poppet