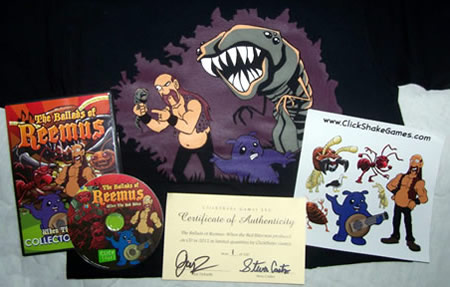 Limited Time Offer!
Now you can literally get your hands on a copy of
Ballads of Reemus: When the Bed Bites
, with the limited run
Collector's Edition package
, which includes the CD and case, signatures from the devs, shirt and stickers, plus the game's soundtrack! Featuring:
Reemus & Liam T-shirt, currently available in medium and large.
Collector's Edition Amaray disc case, with full color artwork on the front and back.
CD with printed artwork and Ballads of Reemus game software.
Sticker sheet is pre-cut, full color, 7x7 inch, featuring 7 characters from the Ballads of Reemus.
Original soundtrack includes all 30 high-quality tracks by Mitch Bowden.
Signed and numbered Certificate of Authenticity by Jay "Zeebarf" Ziebarth and Steve Castro, the creators of the game!
Sold Out!
Thanks to everyone who bought one of the 100 limited edition CD's!