Now available to buy and play, as a PC download or online in your browser.
Try the
demo version
today!
Ballads of Reemus:
When the Bed Bites
Developed by: ClickShake Games
Release Date: 1/27/12 - Now available!
Rating info: Contains alcohol references and tobacco use.
Reemus the exterminator and Liam the purple bear want a heroic ballad to call their own, but first they'll have to deal with a mob of angry townsfolk and an army of bed bugs, termites and fire ants. Come join them on this might quest for fame and glory!
Play the demo
Awards
Winner of 2013 Indie Prize for Best Story at Casual Connect
Nominated for 2012 Best Writing Comedy by AdventureGamers.com
Reviews
"...one of the best adventure games I've played in a long time." - AdventureGamers.com

"...the complete package, perfect for both fans and newcomers alike. It's just the right length for a ten dollar game, and with it's optional quests and easter eggs, will keep adventurers entertained for hours. Whatever the form you play it in, its charm will undoubtedly exterminate your boredom." - JayIsGames.com
Game Features
Story-based point and click comic adventure game based on the Several Journeys of Reemus series, with all-new puzzles and story.
Completely voice-acted dialogue, a first for any Reemus game. Turn off chat bubbles for a more cinematic experience.
Fully animated and voice acted cutscenes, like you're watching a Saturday morning cartoon!
Full-screen mode and other full-featured options available to tweak your experience.
Optional side quests and secret easter egg puzzles with in-game achievements.
Download to Windows to play offline anytime or play online to use the cloud save feature and resume progress from any computer.
Lots of hand-drawn locations including Reemus' hometown, more than 36 speaking characters, almost 100 inventory items to find, great music and more.
Ballads of Reemus:
When the Bed Bites
Full Computer Game

When the Bed Bites
is a premium, download-quality, point and click adventure game available to download or play online, featuring Reemus the exterminator and Liam the purple bear in an all-new epic journey. The Ballads of Reemus are tales of Reemus' life as an exterminator before the Death Slug invasion. Completely stand alone from The Several Journeys storyline, The Ballads will explore Reemus' attempts to find glory and respect as the Kingdom of Fredricus' only exterminator.
1GHz Processor
1GB of RAM; 128MB of graphics memory
DirectX 9.0 or newer
Online version:

Flash browser plugin
Windows, Mac, Linux or other Flash compatible operating system
FireFox, Chrome, Internet Explorer, Safari or other Flash compatible browser
An active internet connection

Downloadable version:

Microsoft® Windows® XP or newer
100MB free hard drive space.
No internet connection required once downloaded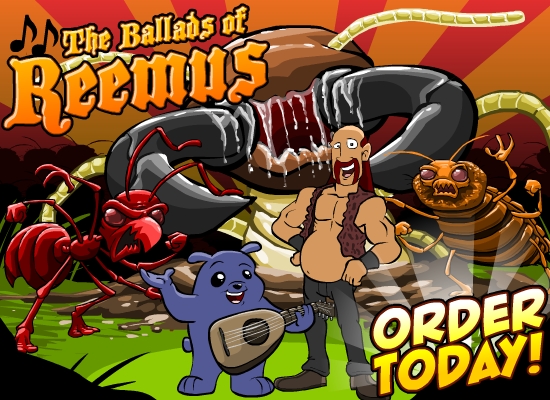 Frequently Asked Questions - Updated 1/28/12
Ballads of Reemus is a completely new and original premium adventure game featuring Reemus and Liam. It is currently complete, live and available to purchase and play instantly. Chapter 4 of Several Journeys of Reemus is a seperate web game which was be released at the same time.
When you buy a premium game from ClickShake Games, you are getting a high quality adventure game experience and giving us the opportunity to continue creating more, higher quality games for you to enjoy.
Playing the Online version allows us to roll out any updates to the game instantly whenever you play, allowing you to play on any computer with Flash, including Windows, Mac, etc. plus save your progress on any computer. Once live, you can just log in to your ClickShake account and you're ready to play. Plus the site-save feature allows you to resume progress from a different computer! The Download version allows you to play offline on a Windows computer.
Have questions about the product options? Read this dev blog post for information relating to option prices or send us a message via the contact link at the bottom of the page.
To obtain your purchased game, login to your ClickShake account with the purchase associated with it and play online or download the DRM-free EXE. No need for registration keys, serial numbers, keygens or cracks!