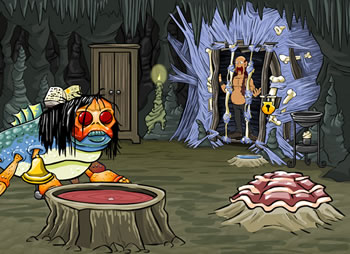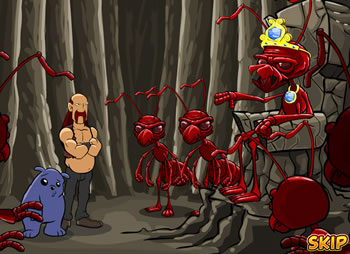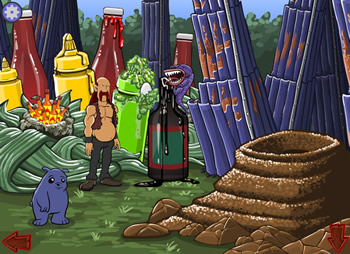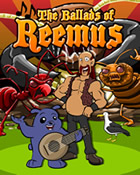 The Ballads of Reemus: When the Bed Bites
is a comical, hand-drawn point and click adventure, featuring human-sized ants, termites and bed bugs, hilarious characters like the unstable honey bee and Vick the Hustler, strange packaged-food-bearing plants, bizarre monsters like the noserpillar and unique puzzles that make you think but have just the right amount of casual difficulty.
Guide Reemus the insect exterminator and his companion and minstrel Liam the purple bear as they travel to exotic locations, battle giant insects and bumble their way towards writing a ballad of their adventures that will finally impress the citizens of Fredricus once and for all!
Ballads
is based on the popular hit web game series
The Several Journeys of Reemus
, which was nomiated for JayIsGames.com Adventure Game of the Year 2008, Newgrounds.com Game of the Year 2008, Flash Gaming Summit Mochi Award Best Game Art 2009, and JayIsGames' Point and Click Game of the Year 2009. Ballads of Reemus takes what people love about
Journeys
and adds in voice acting, fully animated cutscenes, optional side quests with in-game achievements and much more content.
Official Website
|
Game Play Video
About ClickShake Games
We are an independent game development company founded in January 2010, specializing in hand-drawn 2D games with outlandish stories.
We are available for interviews over Skype, phone or email. For all inquiries, please email
or
contact us via our web form
.
"...one of the best adventure games I've played in a long time."
AdventureGamers.com
"Some of the best adventuring I have seen in a point and click game."
IndieGameMag.com
"The Ballads of Remus is the complete package, perfect for both fans and newcomers alike. It's just the right length for a ten dollar game, and with it's optional quests and easter eggs, will keep adventurers entertained for hours. Whatever the form you play it in, its charm will undoubtedly exterminate your boredom."
-JayIsGames.com
"A surprisingly clever comic adventure featuring Reemus (an accident-prone exterminator) and Liam (a soft-spoken bear). Colorful graphics and cut scenes reminiscent of Saturday morning cartoons. Well-written dialog. None of the dialogs are lengthy and all can be clicked through. Good voiceovers."
-GameBoomers.com