Hundreds have pre-ordered Ballads of Reemus and experienced the early release of Several Journeys of Reemus Chapter 4. Their reviews are in and people are loving the new chapter! Check out what they're saying: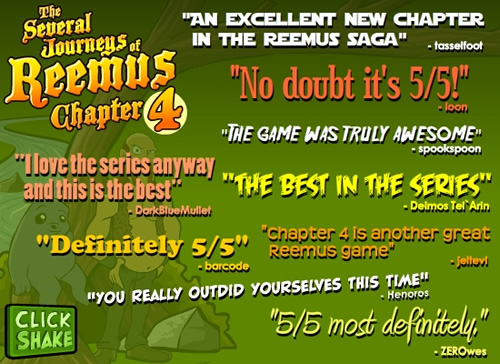 Thoughts on Chapter 4 from around the web:
http://ahkong.net/the-several-journeys-of-reemus-chapter-4/
http://tasselfoot.com/2010/09/22/hype-machine-reemus-chp4/
We did our best to learn from what worked and what didn't in past Reemus games, and Jay really put his all into making this the best Several Journeys game yet. It looks like the hard work is paying off!
In case you didn't know, Chapter 4 is finished but is waiting to be released until Ballads of Reemus goes live. However, if you pre-order Ballads of Reemus today you can play Chapter 4 right now instantly. It's our way of thanking you for showing your support for the upcoming game. Ballads is our first full-length premium game and the first Reemus game to feature voice acted dialogue and several hours of gameplay. It means so much to our small indie development team when you guys pre-order our game and helps us afford the extra time and effort we're putting in this massive Reemus project!
Speaking of Ballads, these past few weeks Jay has been hitting the art super hard and has gotten an impressive chunk of the backgrounds and character design/animation done. There are so many characters in this game and they're all so interesting (like animals pretending to be humans, what?!). We're going to be releasing a new site for Ballads of Reemus soon, so expect to start seeing some sweet, sweet screenshots coming around the corner.
Finally, if you haven't heard, The Visitor is making a comeback in a brand new action adventure horror game coming very soon! The game is finished and pending sponsorship via FlashGameLicense.com. Haven't seen the trailer yet? OMG wat R u waten 4?!
http://www.youtube.com/watch?v=NjXl8u5DcT4&feature=player_embedded